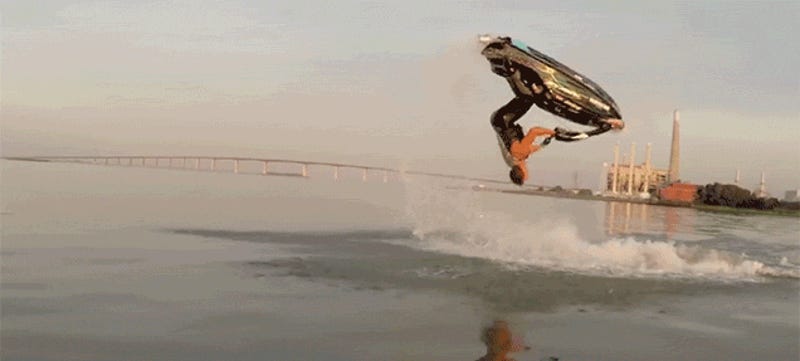 Gravity doesn't really apply to world champion jet skier Eli Kemnitz when he's on one of these floating rockets. Just watch him freestyle and bust out an array of jumping tricks on flat water. You get to see it a little bit from his perspective but the really wild part is just watching him spin and bounce, spin and…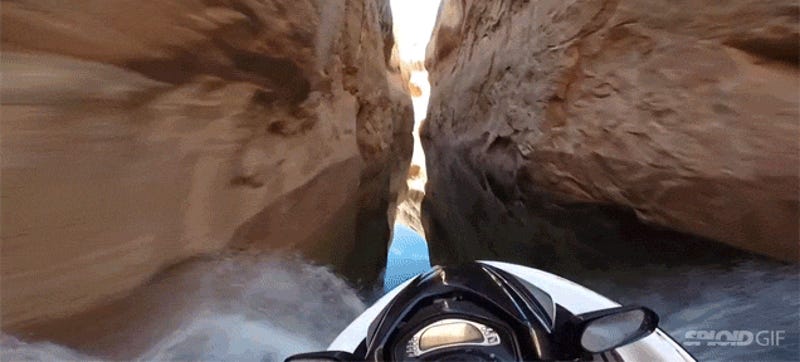 This GoPro video shows Christian Yellott zipping through the incredible narrow canyons of Lake Powell but if I squint a little bit, I can convince myself that I'm watching kid Anakin podracing in Tatooine. Either way, it's pretty awesome.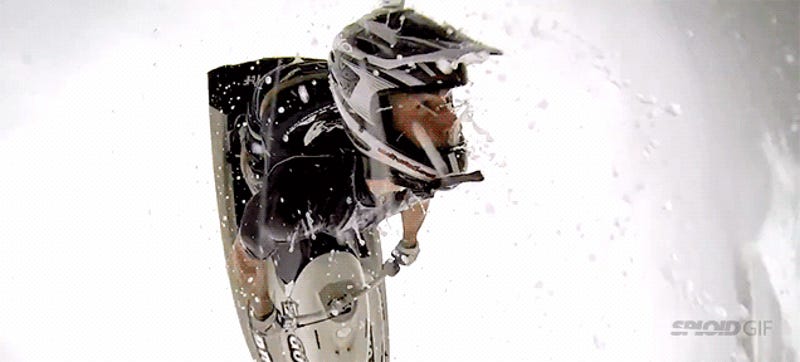 I've seen many jet ski jumps and backflips, but never from this cool perspective. I don't know the mechanism they use to attach them—I imagine some articulated arm/gimbal thingamajig—but I just love these head-mounted action cameras.
What would you do if you woke up after Irene and saw your entire town had been flooded? Check your basement? Call friends and see if they're okay? Hell no, brah—get out the jet ski and get x-treme.
Jason Woods wasn't satisfied with the scene at his local lake. The choice between giant, expensive boats and splashing around on the sand, well, sucked. So he made his own fun—a custom, 15 mph, jet-powered aqua board.
I'm sure that this isn't the first time someone has thought of putting a hydrofoil on a jet ski, but the FoilJet MR 1 concept from Matt De Bellefeuille certainly offers up an intriguing design. The foil itself can be raised or lowered by the rider to accelerate or handle shallow water—but that is where the…
This Jet Ski-shaped phone is, I fear, the Reebok Jazz aerobic shoe of the telephone world. Just look at those colors. Does it come with a matching bag for you to put your gym gear in? Let's hope so, because it'll come in handy for your girlfriend when she decides to move out, taking everything you own with her—…
You're running from the KGB in an ATV, and all of a sudden you hit Lake Titicaca—what do you do? If you were Bond you'd turn around and shoot them all, but unfortunately your wife forgot to renew your license to kill (blast you woman!). Good thing you have this Gibbs Technology Quadski that turns from an ATV into a…