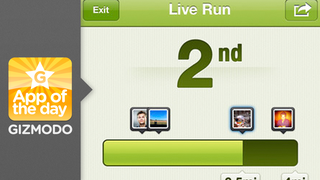 Running is a lot easier when you have someone to help you keep pace. Don't know any runners? Yog is an easy way to find them.
Last week you learned about the best headphones for running, and now you're going to hear what you ought to pump through them. This isn't just about taste. The right music can improve your form, optimize your heart rate, and lower your risk of injury. Listen up.
Or at least just really really ugly. Photographer Sacha Goldberger (remember Super Mamika) took these pictures of runners after they clearly ran through hell itself, and then again a week later in the same poses.
There are all sorts of tech-inclined ways to attempt a workout. Some look pretty scary. But basic common sense still says you should take care of yourself. And even though some studies say different, having a snack before your run couldn't hurt.
If your winter was anything like mine, then you spent it lazing about indoors while eating everything in sight. And that's totally cool, but you probably gained a few unwanted pounds as well. Now that the weather's getting warm, and you can no longer hide beneath layers of clothing, it's time to get back in shape.…
Click to viewFor some reason 18-year-old Zak Anthony King seemed surprised that police officers would threaten to taser him as he evaded arrest wearing nothing but swim goggles. And that wasn't even the awkward part:
Continuing the Zune Accessories parade, today we have both the DLO Leather Zune case and the DLO Action Jacket, which is an armband case for the Zune. We still question the need for Zune cases, seeing as they're made out of a pretty scratch-proof rubberized plastic, but some people really like their gadgets pristine.
If Natalie Portman's character in V for Vendetta had this safety alarm pedometer, she would have never met V and the movie would have been 10 minutes long. The Sportline 334 is a regular pedometer — tracking your steps and counting your calories burned — but it also makes a 100db noise to alert bystanders. It retails…