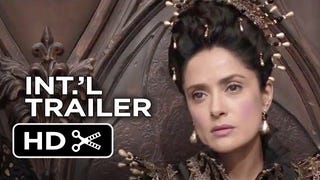 Oh, that? Yeah, it's Salma Hayek devouring a bloody dragon heart, among other striking (and oft-NSFW, so be warned) images in the trailer for The Tale Of Tales. The fairy-tale epic is the latest from Italian filmmaker Matteo Garrone (Gomorrah), and it's debuting next month at the Cannes Film Festival.
At this point, "zombie comedy" has become a movie genre in its own right, thanks to films like Shaun of the Dead and Fido. And the latest addition is Life After Beth, about a young man whose dead girlfriend (Aubrey Plaza) comes back. Alas, Beth is not quite funny enough, or clever enough, to stand out from the zombie…
Wreck-It Ralph was surprisingly terrific, doing a lot of clever stuff with the "video game characters have a life away from the screen" trope. So it's great news that studio execs are reportedly talking about a sequel. And this time around, director Rich Moore wants to find a way to include Mario from Mario Bros.…
John C. Reilly describes video-game villain Wreck-It-Ralph as sharp, witty… and possibly a working model of Keynesian economic theories. As long as Ralph is "Gonna Wreck It!", Fix-It Felix Jr. will have a job, well, fixing it. We approached voice actor John C. Reilly about our theory, and also talked about the rules…
Earlier this month Crispen Glover explained all about remaking history as Thomas Edison with John C. Reilly, who played Nikola Tesla, on Drunk History. Watch the first clips from this segment, and learn about why Edison was such a dick.
Our vampire glut continues with Vampire's Assistant, which replaces fangs with fingernails and gives vampires "healing spit" powers. The good parts are enchanting, but the copious bad parts will leave a "bad blood" taste in your mouth. Spoilers ahead...