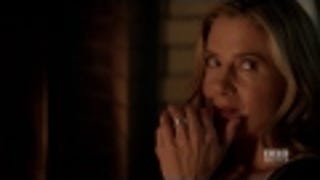 Our first couple glimpses of Intruders, BBC America's new series about a secret society that seeks to attain immortality by possessing other people's bodies, were seriously spooky. This new, extended trailer continues the trend. Oh – and the show now has an official release date!
Want David Tennant tuck you into bed every night? Wish granted. YouTube has an insane collection of the Doctor Who cast (over many years) reading children's stories for a BBC program, Cbeebies. It's insanely adorable, and absolutely calming. The Master even gets in on the game. All you need now is a laptop, and you…
Who's that in bondage in new stills from David Tennant's final Doctor Who story? The answer, and some other major "End Of Time" spoilers, below.
Could the Master be the new Doctor? That's what one newspaper is claiming. John Simm, who danced rings around David Tennant as the psycho arch-villain, is the "hot favorite" to play the Doctor when Tennant leaves. But it's unclear how the show could get around the fact that we saw Simm's body being cremated: