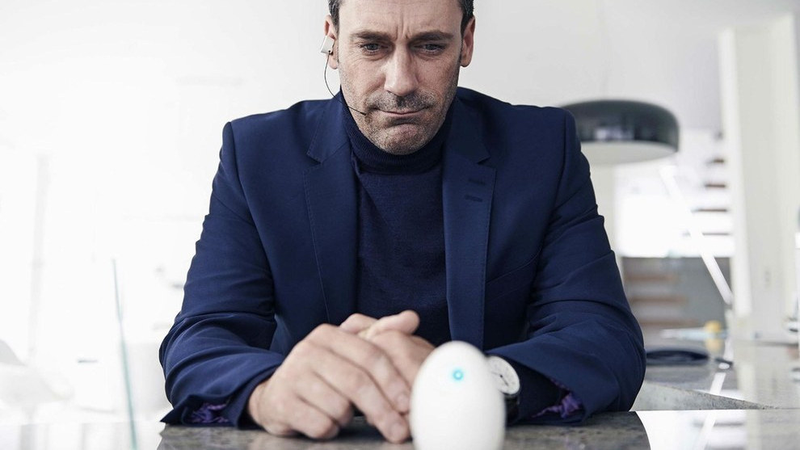 We've loved the UK anthology show Black Mirror, and we're excited to see more episodes coming in the near future to Netflix. While we wait, the Christmas episode has appeared on Netflix streaming, and it's a creepy one.
Sure, we all know Jon Hamm as the star of Mad Men, but the guy has crazy range. He's done a lot of comedy, some family stuff and even a little scifi—his episode of Black Mirror is one of the series' best. And now he'll return to that genre in an adaptation of the Pulitzer Prize-finalist play Marjorie Prime.
Black Mirror, Charlie Brooker's brilliant techno-dystopian anthology series, has both three-episode seasons available to stream on Netflix. If you haven't watched it yet, it's a worthwhile but disturbing holiday binge. And now there's a new addition to the unsettling show: A 90-minute holiday special called "White…
The idea of Black Mirror, the twisted British dystopian series, having a Christmas special might seem odd. But while White Christmas does give us a dark near future that's not all tinsel and lights, its trio of tales is really all about a truly Christmassy message of compassion and empathy. Spoilers ahead...
The premise for Sucker Punch might be a bit muddled, but the imagery grabs your face by the ears! This latest banner is no exception, Zack Snyder's army of ladies is almost dancing through this surreal war-torn world.
From the behind-the-scenes photoshoot from Rolling Stone, Core77 plucked these incongruous shots of Mad Men's actors using modern tech.
Last night on Saturday Night Live the skits were filled with The Lost Boys sax man curses and the return of Greg, who is not an alien. Check out the best of the night with special host Jon Hamm.
You've all seen the super shiny long-haired Nic Cage-as-Superman supposed test shot. Now we've, umm, uncovered some other "pictures" from Cage's lesser-known Superman projects. Plus, your chance to vote on whether the original image was Photoshopped or not!
At the premiere for Day the Earth Stood Still, we nabbed cast member Jon Hamm and asked what his Mad Men character Don Draper would do to stop angry alien Klaatu.