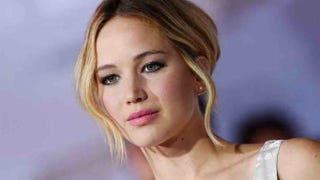 Is Jennifer Lawrence going to space? Is Chris Pratt going ... back to space? A new report has the duo in talks to head up the cast of Passengers, with Imitation Game director Morton Tyldum at the helm.
Prometheus scribe Jon Spaiths has been hired by Disney to jumpstart the long stalled Black Hole reboot, spearheaded by Oblivion and Tron Legacy director Joe Kosinski. And going by Kosinski's aesthetic, we're imagining a very video game friendly reboot that swaps out google-eyed robots for Svedka bots.
However you feel about Prometheus, one thing's for sure: This movie has inspired more arguments than any film in the past few years. What's it all about? Does it actually mean anything at all? David J. Williams, author of The Mirrored Heavens, The Burning Sky and the Machinery of Light, has a few theories that might…
Ridley Scott's Prometheus is one of the year's most visually stunning movies. It's full of astonishing images that live on in your mind's eye after you leave the theater — and every single one of those images was the result of hours of work by a team of designers who worked literally around the clock.
Just how many elements of Alien were there in some earlier versions of the Prometheus script? Earlier this week, we talked to screenwriter Jon Spaihts, who says the basic storyline is the same but there's "some truth" to the idea that his script started out as more of an Alien prequel than what Ridley Scott ended up…
Jon Spaihts wrote five drafts of Ridley Scott's Prometheus, before handing it off to Damon Lindelof. He's also become known in Hollywood as the go-to writer for hard science fiction and space adventure, after his space romance Passengers landed on the Black List of the best unproduced scripts. And he's written two…