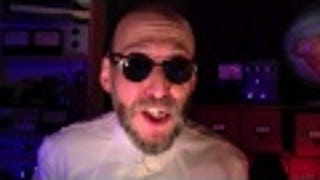 David D. Levine has been many things, including Hugo-winning short story writer and Martian explorer — but now he's taking on a new role: supervillain. Check out this brand new Dr. Horrible-esque video, in which he delivers a "Letter to the Editor" from the supervillain Dr. Talon, from his story in the anthology The Mad…
Merry Christmas! Wanna see how it all would have gone down in today's modern world? Well Joseph H. Christ and Mary H. Christ have taken to Twitter to recount the birth of Jesus. It's blasphemous and hilarious. Enjoy!
We've already seen the dreaded Cobra Commander's live action face reveal in toy form forG.I. Joe. But actor Joseph Gordon-Levitt thinks the character's Daniel Day-Lewis good. We're still not sold... especially when he compares it to a Russian Clown Show.