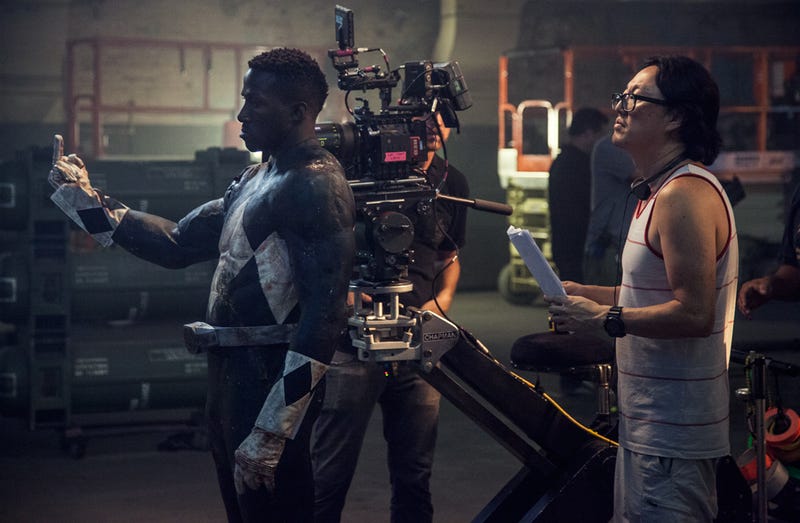 Last week, director Joseph Kahn dropped his "dark as f*ck" POWER/RANGERS short. Soon, it was pulled from the internet, but now it's back in full NSFW glory. So what happened? In an exclusive interview, Kahn explains how the internet saved his short. Plus why he doesn't think the real Power Rangers show should be this…
Joseph Kahn's excellently dark Power Rangers fan film is once again available for online viewing after a brief dispute with the franchise's copyright holder. All it took was a disclaimer (on the NSFW Vimeo version) and an age restriction (on the "safe" YouTube version). View both here!

Holy Ice-hockey-Jesus-on-a-Pogo-stick. I can't believe the darkness in this short by Joseph Kahn, a "deboot" of the Power Rangers, as he calls it—a fan film, "not a pilot, not a series, not for profit, strictly for exhibition." A free fan film starring Katee Sackhoff, the iconic Starbuck from Battlestar Galactica.
Veteran music video director Joseph Kahn has created a film that challenges the limits of genre, to a degree that will make your head spin. But Detention isn't just aimed at randomly being meta or ironic, Kahn tells io9 — rather, he's hoping to reflect the reality of youth culture in the age of Twitter and Youtube.
Imagine an unholy mashup of Heathers, Back to the Future, Donnie Darko, a Lady Gaga music video, Saw 4, and Thomas Pyncheon's postmodern novel The Crying of Lot 49. Then add in the fast-patter, pop-reference humor of Community. Now you are beginning to understand only one tiny part of the pleasing madness that drives…
People have been trying to make a movie of William Gibson's Neuromancer since the mid-1980s, and now Splice/Cube director Vincenzo Natali is trying to make it happen. But for a few years, Joseph Kahn, the director of tons of music videos plus Torque and Detention, was hard at work on a Neuromancer film.
It's been quite some time since we've heard any news about the Neuromancer, but director Joseph Kahn is apparently still working on it. He tweeted about it over the weekend — and William Gibson tweeted back.
We've all been dubious about the idea that anybody could make William Gibson's classic cyberpunk novel Neuromancer into a movie, but this poster gives me hope. I love the abstract, steampunk-meets-dada look of it. Maybe director Joseph Kahn will give us an extraordinary new vision of the book, which captures both its…
Hayden "Anakin" Christensen will star in a movie adaptation of William Gibson's classic novel Neuromancer, directed by Joseph Kahn. So far, Kahn's only credits are the low-budget biker movie Torque, and some Britney Spears music videos. (Torque does feature lots of spooky flickering neon lights, which is a start.) The…