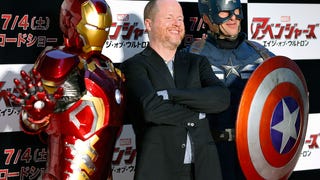 "I was so beaten down by the process." "I [came] off of it feeling like a miserable failure." "I think that did a disservice to the movie and the studio and to myself." "The things about it that are wrong frustrate me enormously." These are things Joss Whedon just said about Age of Ultron at the Tribeca Film Festival…
We may never get another live-action Firefly movie or TV show. So every bit of Firefly media that we do get is precious—and that explains why Browncoats became so excited about Firefly Online, the online role-playing game. But what's become of this project?
Finding the perfect gift for the beloved fan in your life can be a major challenge — but the first step to success is to know what kind of fan you're dealing with. What does this person truly love, above all else? Once you know that, you're set. Here's our complete guide to gifts for 10 different species of fans.
And if you like what you see from the newest spooky supernatural flick from Joss Whedon's brilliant brain, you can watch the entire movie on demand on Vimeo for 5 bucks. A great deal for those of you who want more Whedon in your life. The tagline talks about this being a story about a girl who meets a boy but because…
On last night's Dollhouse, geek god Patton Oswalt plays, well, a geek god who manages to name-check the Kindle in a totally non-derisive way. Check out the clip below.
FireFly may have gone down in flames, but the Serenity flies on with a little help of string and your Christmas tree. Usually going for upwards of $20—not that we obsessively check prices on all gear—the Serenity ornament is now on sale for a sweet $10. And just in case Joss Whedon stops by as part of some magical…
Give me Malcolm Reynolds over any other bucket-o-bolts captain ever. Joss Whedon is a national treasure and Nathan Fillion
is his greatest muse
. Yes, I'm such a fanboy I totally won't mind buying Serenity for the third time, , since it comes packed with a Firefly class ship's worth of new features (like a bonus four…
Firefly might have been the best thing Joss Whedon has ever done in our opinion, but it's also one of the shortest things he's ever done. In just 14 episodes, the space western was able to surpass both and (and all of his smaller creations) in our minds as his work, which is why we cannot wait to get this thing on…