Joanne Milne has not heard a single word, bird chirp or music note for 39 years. Four weeks ago, she got electronic cochlear implants. This is the exact moment when she hears for the first time and starts to cry overwhelmed by the feeling and emotion.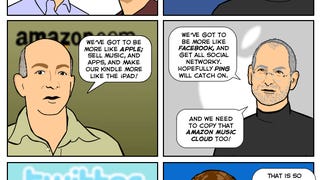 In this edition of the Joy of Tech, everyone's an innovator and an unusually snarky Bill Gates gets the final word. Start your photocopiers, indeed! [Joy of Tech]
There are the snobby, deluded audiophiles who troll internet forums all day arguing about the merits of acoustic cryocoolers and adaptive spectral perceptual entropy coding, and then there's Ken.