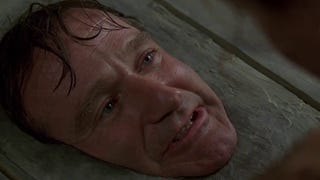 Dwayne "The Rock" Johnson took to Instagram Monday afternoon to offer an update on the upcoming remake of Jumanji that he'll be starring in. Among the new was a promise the new film would "forever immortalize" Robin Williams' character from the first film in "an earnest and cool way."
Doctor Who's new companion tells us what to expect from her time in the TARDIS. Green Lantern Corps could star three human Green Lanterns. Jared Leto explains what makes his Joker unique. Plus, disreputable Warcraft inns, the Blob comes to X-Men: Apocalypse, and a new Agents of SHIELD clip. Spoilers Get!
When news broke that Sony Pictures was going to remake Jumanji, we were suitably confused. Didn't the first movie with Robin Williams kind of just get it right? Well, now we have an idea of how filmmaker Jake Kasdan plans on differentiating his version: by casting Dwayne Johnson and Kevin Hart.
Guardians of the Galaxy Volume 2 could feature a (literally) huge Marvel comics character. Bryan Singer teases the Game of Thrones-esque mutant plight in X-Men Apocalypse. Arrow teases another live-action hero. Plus oodles of pictures from The Originals, The Expanse, Agent Carter, and Lucifer. To me, my Spoilers!
Civil War will balance its dark moments with some superhero humor. The long-awaited Jumanji reboot gets a director. Chris Pine talks Wonder Woman. The Magicians will lean into the horror elements of the books. Plus, more superheroes in DC TV shows, and ridiculously meta Deadpool adverts. Spoilers Now!
Ed Quinn will save us from fey vampire hell, with one fanged smirk on this week's True Blood. But until Sunday, you've got a new Eureka, and a documentary all about JK Rowling's magical world building, to tide you over.