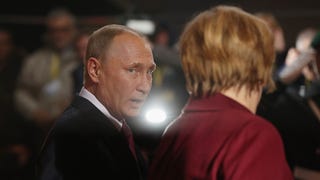 Late last year, top cybersecurity investigators from a private firm and Russian intelligence were arrested in dramatic fashion. One was dragged out of a meeting with a bag over his head. All were disappeared. Details were scare at the time, but revelations from a new Reuters report now only complicate what we know.
Security researchers recently identified an elite team of possibly state-sponsored hackers that infiltrate hotel Wi-Fi networks to gain access to the computers of high-level executives and leaders, probably to steal nuclear secrets. They're calling this band of cyber-spies DarkHotel.
A new spyware epidemic has broken out at government entities and NGOs in 23 countries including several organizations in the United States. And it's not bogus Twitter links or porn that's getting people this time—it's PDFs that look like work.
Yevgeny Kaspersky, head of mega-antivirus firm Kaspersky Labs, probably has a lot of enemies in Russia—a country where cybercrime rakes in the rubles. So it's not entirely surprisingly that Yevgeny's son has been kidnapped and held for ransom.
Honeymoon's over, everyone: antiviral watchdog Kaspersky has spotted Android's first, SMS-based trojan making the rounds in Russia. The devious little MS.AndroidOS.FakePlayer.a masks itself as a media player before invisibly shooting out expensive texts to premium numbers, earning cash for fraudsters.
Dear god. Jackie Chan. On a Segway. Punching computer viruses. While wearing a helmet that says Kaspersky. I can only process this logically as him trying to gin up business for his Segway dealership.