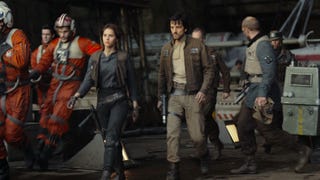 Rogue One is the first Star Wars movie not in the "Saga," meaning it doesn't specifically tell a Skywalker-centric adventure. It's a "story," making it a Star Wars movie that can be anything. In the case of Rogue One, it's a heist/war movie about the plans for the first Death Star. So now the question is, what should…
Should Star Wars: The Force Awakens' beloved little droid BB-8 be referred to as a "he" or a "she"? It's not a question with an answer you'd expect to change, but it has—several times . The droid has been referred to as both male and female these past few months, and now things have gotten more confusing.

Uh-oh. Seeing as it's almost the end of 2013, it's going to take a mountain of post-production work, and it just got new scriptwriters, it seems almost impossible that Star Wars: Episode VII would make its summer 2015 release date. But don't tell Disney, because they're premiering it then no matter what.
Legendary film composer John Williams, the man behind the music for all six Star Wars films and master of the science fictional leitmotif, will return to score Star Wars: Episode VII! Here's what he has to say about his return to the Star Wars universe – including his thoughts on director J.J. Abrams.
A big, fat Star Wars rumor is circling the internet about the batch of Star Wars movies Disney is cooking up. We all know that J.J. Abrams is going to direct Episode VII, but the mouse house isn't just going to make Star Wars movies that continue on the Skywalker story. Disney has plans to make a collection of …