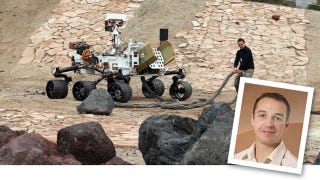 Matt Heverly has one of the coolest jobs in the Solar System: he drives rovers. On Mars. He drove NASA's Opportunity rover for four years and now he's getting ready for the biggest mission in the history of NASA's planetary exploration—driving the $2.6-billion car-sized Curiosity rover after it lands this Sunday (I…
Google Fiber is pretty freaking awesome. But we're all geeking out about how it might work, or how we think it's could change our lives. Max Ross is actually living it.
Just about everyone you know uses Wikipedia. But that deep library of information—nearly 4 million entries—didn't get there by accident. In fact, a surprising number of them came from Justin Knapp, who is the first person to make more than one million edits on the site. We've got him here live taking your questions.
If you're reading these lines it's because of this man. He's Dave Winer, the inventor of blogs and RSS syndication, two of the backbones of the web. Often controversial, always challenging, this is the story of what got him inspired to do it all:
Kevin Mitnick was one of the first internationally known hackers, one of the early wizards who struck the fear of the gods in the machine into regular people. He hacked Los Angeles, Motorola, Nokia, Sun Microsystems, and Fujitsu Siemens before finally being caught by the FBI.
Even the best bike lock can't protect you from a professional bike thief. We learned that ourselves, when even Mario's amateur ass made short work of the best locks on the market. But we wanted to know how much more of a threat a seasoned pro represents. What tools does he use? What does he do with the bike once he…
The SR-71 Blackbird remains an icon of American aerospace engineering to this day. Its speed and operating ceiling are unrivaled. However, it did not simply spring forth fully-formed from the head of "Kelly" Johnson—it spent years in development as the A-12 Oxcart being flown by an elite group of Air Force pilots.…
Chambray mcsweeney's trust fund umami single-origin coffee flexitarian pinterest, shoreditch authentic street art. Trust fund cardigan keytar pour-over. Fanny pack farm-to-table polaroid gluten-free. Tofu cred yr fap, whatever godard williamsburg. Brooklyn gastropub lo-fi, bespoke keffiyeh bushwick marfa. Banksy…