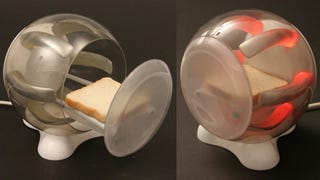 Who doesn't love toast? I don't want to hear it! It's taking bread to another level. But sometimes bread doesn't toast evenly! This Roastie Toaster is a concept design by Mateusz Glówka that not only has a lovely see through spherical body but also has rotating heating elements (those metal beams) that give your bread…
I'll admit I'm a dreadful omelette cooker: I usually burn the bottoms, or get so impatient I just ram the whole pan into the oven and cook it that way. This Nordic Ware Rolled Omelette Pan makes it look a breeze though, with the divider letting you full the eggs with veggies (and cheese! Glorious cheese!), so you can…
This foot-powered food processor has numerous things going for it. As you will have noticed, it's incredibly stylish—and small. It's also eco-friendly, thigh-friendly and perfect for small kitchens. It's just a shame it's a concept.
Not just a pie maker, but a PERSONAL pie maker. I suppose that means I can eat all four pies myself, right? Perfectly-crimped pies for just $80, exclusively at Williams Sonoma. [Williams Sonoma via OhGizmo]
Behold! The kitchen futuristic kitchen of 1975, as depicted in Arnold B. Barach's book, 1975 and the Changes to Come, from 1962. The dishwasher thing (or is it a shelf?) looks like it's floating, people. Floating. [Paleofuture via Boing Boing]
Gorenje, the company that brought us the iPod-docking fridge, has created the next fridge of our dreams—carbon fiber, baby. The induction hob shown below is also the stove of our (concentric) dreams:
The Philips' Robust Collection was left out from the final cut of Aliens, but all these military-green anodized aluminum kitchen appliances were in the kitchen of the USS Sulaco. Really. Look at the gallery and tell me if I'm wrong.
I love Battlestar Galactica and I also love the tasty, whole grain wheatyness of toast. But alas, I cannot live out my dream of combining my two loves into a single product. Wait one second...now I can, thanks to this limited edition $65 toaster from the Sci-Fi Channel! Each Battlestar Galactica branded toaster burns…
I doubt that it's all that more space efficient to combine kitchen gadgets, but it can certainly save you a few precious counter plugs. The ikon by Breville combines your toaster with a kettle, the perfect breakfast machine for when your visiting friends from overseas ask for something other than your trademark Egg…