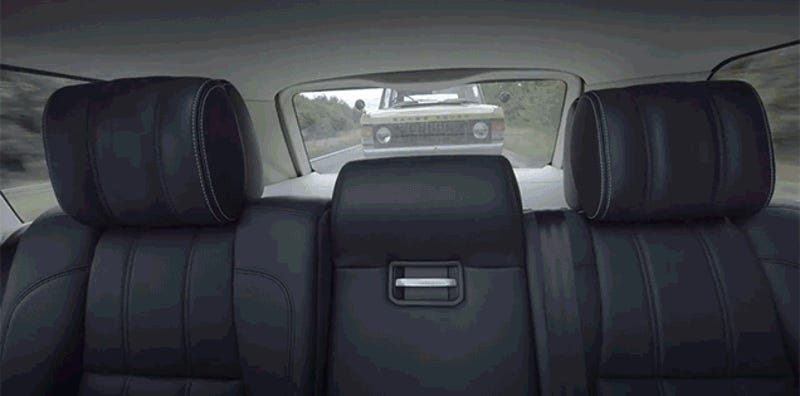 Driving with a trailer in tow leaves with you a gigantic blind spot directly behind your vehicle. So to make it easier to keep an eye on traffic following you, Land Rover has come up with a way to make trailers appear to be transparent using strategically placed cameras.
In the not-too-distant future, eye-tracking technology will be a run-of-the-mill feature in many high-end vehicles, helping keep drivers' eyes on the road. But Jaguar Land Rover has patented another use for the tech that allows cars to automatically trigger the rear window's wiper so it's always clean and clear when…
If you're finding yourself overwhelmed with all the work on your plate, it's probably a bad idea to keep track of it all on this lovely calendar Land Rover has made. Using the topography elevation lines you'd find on a 2D map as inspiration, this calendar ends up looking like a genuine miniature mountain on your desk,…
Aside from the sleek body designs and supercharged engines, part of the appeal of a sports car is feeling close to the ground, hurtling along with such close proximity to the roads as to feel a tangible connection to the street or circuit beneath you. But as Jaguar Land Rover's Transparent Bonnet concept shows,…
If you needed yet another reminder that you're far from being a Lego master builder, check out 'Sheepo's' mind-blowingly awesome 1:8.4-scale Land Rover Defender 110 built from over 2,800 pieces. It could probably endure an off-road adventure better than your compact car.
Land Rover likes to brag that its vehicles are best suited for off-road excursions. And to ensure the company's customers in the United Arab Emirates survived a long drive into the desert, it created this handy survival guide that can even be eaten when food is scarce.
Driving would be way more fun if we didn't have to worry about the whole gas and brake thing, right? Sentience understands this, and their intelligent cruise control means you can finally forget about it.
Constructed of 3500 parts, connected by 4,900 bolts and standing 112 feet in the air, this sculpture commissioned by Land Rover is certainly an idolatrous addition to the Festival of Speed. But, uhh, does anyone else see the piece as less a triumph and more an indicator of our inevitable future-one where SUVs are good…
It seems like something that would have been invented before, and by red-blooded Americans for whom off-roading is a way of life, but the Trailcart, according to TreeHugger, is the world's "first pedal-powered four-wheel-drive off-road vehicle," and it was invented by a clever German fellow named Frank Fraune.
We normally don't get super excited about concept cars, but this Land Rover LRX Concept has something we're quite interested in: iPhone integration. Not only does it have a slot carved out especially for the phone that allows it to dock into the car like some sort of brushed-metal lover, it's even got a gigantic…