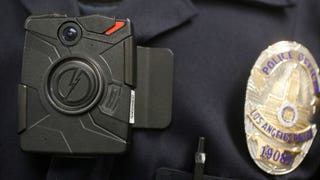 Today the LA Police Department announced that it had purchased 3,130 new Tasers that activate a body camera when they're being used. The camera is activated after the officer turns off the safety on the Taser. The "non-lethal" weapon communicates with the officer's body camera via bluetooth.
Los Angeles Mayor Eric Garcetti and Police Chief Charlie Beck announced that LAPD officers will officially begin wearing on-body cameras that will record their interactions with civilians.
If you regularly kick down doors and beat people over the head with hard things, you're either part of the LAPD or an action movie star. Either way, you should really be carrying this Pelican 7060 LED flashlight, the official flashlight of the Los Angeles Police Department. If you thought your Mag Light was both tough…
See that badass guy above holding the gun? Well that's no gun—that's a flashlight. Ok, it's really a gun. But the new Pelican 7060 is still hardcore enough to fool you for a moment, and that's all that matters.
Despite having little clue what this means, we still hope to pick one up when the Pelican 7060 is…
The Los Angeles Police Department plans to install "dart-like" GPS devices from Starchase, LLC, that will be propelled from officers cars and attach to fleeing vehicles. Once attached, a GPS sensor kicks, from which officers can monitor the vehicle s movements via a secure website, as the homing beacon transmits all…