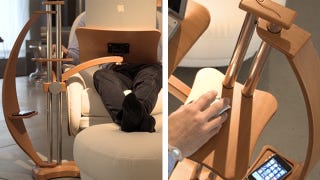 Say you've got no room for a desk in your apartment, but you have a kickass comfy armchair. This laptop stand will act as a nice substitute, all while ensuring your posture isn't ruined by slumped laptop use. [Archi Portale via Born Rich]
Rather than swathe MacBooks in cases or laptop bags, the mBrace could suit short journeys from house to coffee shop, slipping in the crevice between screen and keyboard. $75,000 investment's being sought over at Kickstarter now. [mBrace via CrunchGear]
Men! Do you smell so bad that even your laptop has started stinking? Desperate times call for desperate measures, which means you might just have to consider this USB scent flower.
If you use your laptop on the couch, or in bed, laptop-desks stop it sliding around, or warming up your nether region. And while we like Logitech's Comfort Lapdesk, the new N315 adds a mouse-rest—pretty good for $30.
Belkin has unveiled several solutions that'll help keep laptop people like me from burning our tender flesh. Come this October, the bunch of us that adamantly refuse to work from an actual desk can choose between the $64.99 CushTop Hideaway, which doubles as a laptop storage case, or the $39.99 Laptop Cooling Lounge,…
Check out the Floater by Balmuda Design, a stand for your MacBook Pro that lets you close up that laptop, holding it up on vertical display for all to see. Connect your keyboard, screen and mouse for the perfect desktop replacement. Carved out of a solid block of aluminum, it matches the MacBook Pro and even helps to…
Lapstyle calls these "the all new, never seen before" laptop covers, and there's a good reason why they've never been seen before: they are the stupidest accessory ever. The last thing a laptop needs is a cover that makes it retain heat.