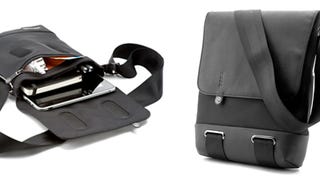 Keeping with the snake theme, Booq's new Cobra range of four gadget-friendly bags are (mostly) affordable, but actually look really nice. My favorite is the Courier XS satchel—large enough for an iPad and the rest of your junk.
I'm pretty square, fashion-wise. I own few intentionally ironic t-shirts, and fewer skinny jeans. Buchanan bags on my style choices regularly. That's why, when he ordered me to ditch my old backpack, I picked Timbuk2's new HAL.
Bags deemed "checkpoint friendly" by the TSA are starting to roll out fast and furious now-bags with "creative" names like "
ScanFast
" and the newly announced "CheckFast" from Solo (I'm still waiting for the "CavitySearchFree"). The CheckFast claims to be "the first laptop case company to have fulfilled the design and…