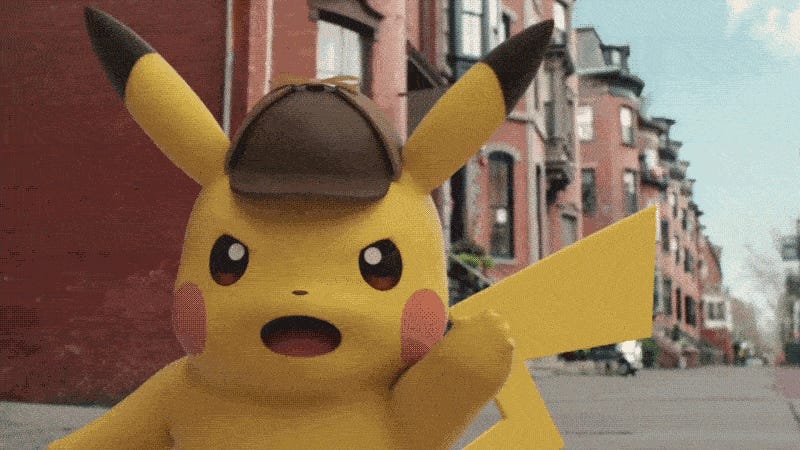 It was only last week we heard that the bidding for the movie rights of the fabled Pokémon franchise were heating up again thanks to the runaway success of Pokémon Go—but now we have confirmation: Legendary is teaming up with The Pokémon Company to make a live-action movie... but not the one you were expecting.
It's been a while since we last saw a full trailer for Duncan Jones' Warcraft movie, but this new TV spot includes more Orcs and Humans than you can shake a stick at, and then Dwarves, magic, and more as well!
Pacific Rim fans will know that setting any piece of tie-in material before the events of the movie usually can only end up one way: with most of its protagonists and their lovely giant robots dead, leaving Humanity's defenders on the brink in time for the movie. The new Pacific Rim comic knows that too, and uses it…
It's a relatively quiet week in comics—which makes it the perfect time for us to finally get our hands on Captain America: White, a comic that's been in the works since 2008. But that's not all for this week's new comics. There's also science fiction adventures from Arrow's Marc Guggenheim, and tons more!
It's quiet end-of-summer week for new comics—but hey! Look at the sweet mustache on Howard the Human (née Duck), the latest wacky addition to Marvel's Secret Wars event. But that's not all this week—there's near future political thrills, secret love, super-powered murder, and much, much more.
For nearly 11 years, World of Warcraft gamers have soared over the Alliance Capital of Stormwind on their flying steeds, but now you can get a sneak peek of a similar scenario for Duncan Jones' Warcraft movie for yourself, as well as a fantastic first look at the location re-imagined for the big screen.
The worlds of DC and Star Trek combine this week, but it's not all that's going on in the latest new comics. Marvel goes to the Wild West in a new batch of Secret Wars miniseries, DC takes on Max himself in another Mad Max tie-in, Boy scouts take on the apocalypse, Time cops solve time crimes, and much, much, more!
This week, Kaptara, a zany space adventure that we are very excited about, begins! There's another batch of DC's Convergence titles, and Marvel hyping up Age of Ultron via comics. But that's not all for this week — there's the escapades of Charles Babbage and Ada Lovelace, and a comic about a sentient, foul-mouthed gun
Pacific Rim 2 is still a long way off, but if you're hankering for some more hot Jaeger/Kaiju battles, you won't have to wait much longer: a new comic miniseries from Legendary will fill in the gap between the first movie and the previous graphic novel prequel. Update: Now with glorious High-Res art!
A new series from Brian Joines and Jay Faerber tells the tale of a superhero infiltrating a team of heroes to uncover their darkest secrets this week, but that's not all. She-Hulk comes to a close, Boom! presents a weird new horror story about Somali pirates, and there's more collections than you can shake a stick at.…
On Saturday, Legendary announced a new King Kong movie called Skull Island. At the time, that was all we knew. But now, it looks like the studio isn't going to waste any time getting this out there.