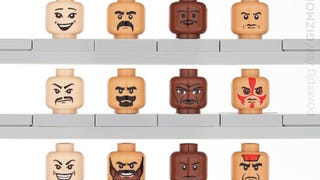 While discussing the art for last week's OKCupid post on the preferences of different races, guest artist, Chris "Powerpig" McVeigh dropped an astonishing fact: "Almost all non-white faces in Lego are scowling." Easy now: It's not Lego's fault.
Just as I'd play LEGO Star Wars, I'd gladly watch a full feature LEGO Star Wars movie—assuming it's as well-executed as this clip. Enjoy the brick gore. [BricksinMotion via Kotaku]
While most LEGO models are smaller than the objects they resemble, this eight foot LEGO R2-D2 Technabob found stands considerably taller than the actual Star Wars droid. The model not only looks like R2-D2, but features working red and blue LEDs and authentic sound effects as shown by the video.