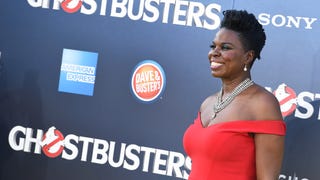 The Department of Homeland Security is investigating the cyberattack on Leslie Jones, according to a report by the LA Times.
Milo Yiannopoulos, the Breitbart blogger better known as @Nero on Twitter, has been permanently banned from the site after inciting a campaign of racist harassment against Ghostbusters star Leslie Jones that prompted the actress to quit Twitter.
In a perfect world, Leslie Jones would've spent her Monday celebrating the release of her new childhood-ruining movie, Ghostbusters: Attack of the Feminmiminismsists, but instead she's putting up with some bullshit on Twitter. Monday night, Jones exposed and called out the insanely racist abuse she's been receiving.
Paul Feig's Ghostbusters is a film for anyone who ever watched the first Ghostbusters and thought, "I wish they got to use their guns more." It's bigger, brighter, and louder—the sort of movie that features the Ghostbusters shooting ghosts in slow motion set to the iconic theme song. It's also incredibly funny. The…
After decades of waiting for a new Ghostbusters movie, here's your first footage from one. To celebrate the launch of this awesome trailer, we talked with director Paul Feig, producer Ivan Reitman and writer Katie Dippold, and they told us why this trailer reintroduces so many of the things we love.

The new Ghostbusters movie is still half a year away, but at least now we're starting to get teased with some pretty sweet images. Yesterday, we saw our first official cast picture. Now feast your eyes on four posters, one for each of our new heroes.
Director Paul Feig just revealed the costumes for his Ghostbusters film, starring Melissa McCarthy, Kristen Wiig, Kate McKinnon and Leslie Jones. They're definitely similar to the ones from the 1984 original film, but have a more realistic, fire fighter vibe to them. But that's not the only Ghostbusters news today.