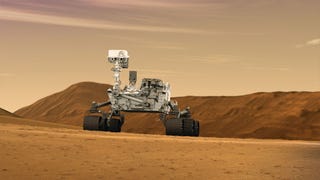 When Curiosity goes looking for organic molecules in Mars's solid surface, it vaporizes a rock sample and sniffs the gas that comes out. The plan could be going awry thanks to a pesky little mineral called jarosite.
Mars is a big boy. At 4.5 billion years old, the Red Planet can surely take care of itself by now—but you wouldn't know it based on the great lengths NASA and friends go to protect it from contamination by Earthly debris. Some astrobiologists think these measures are unnecessary.
The possibility that Mars was once home to all kinds of life is looking better and better with each new Curiosity discovery. According to newly published research, the rover has stumbled across a site in the Gale Crater that scientists believe might have once been a lake full of life.
So much Mars Madness, so little David Bowie, weirdly. It's only appropriate that tonight's #soundtrack reflect the current red planet rage. David Bowie looks a lot like a glam clown in this video—or a Martian, maybe? Whatever his stylistic intent, this song is a classic and ought to be revisited by us all. Because:…
You know how sometimes a piece of awesome news turns sour because it opens the door for something terrible? That's what's happening in South Africa, where the discovery of "worms from Hell" means subterranean life on Mars is a lot more likely. Thing is, that "life" would probably be worms from Hell from Mars.