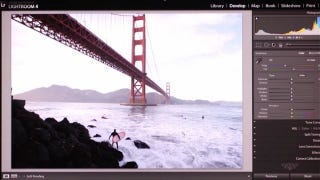 9to5Mac is reporting that Adobe will soon unveil an iPad version of its Lightroom photo editing suite, with a $100 annual cloud subscription.
Adobe's Photography Program, which gives you access to Photoshop CC and Lightroom 5 for $10 a month, is now available to anyone signing up between November 20th and December 2nd. Previously, you had to be an owner of CS3 or after to qualify. Hurry!
The latest instalment of Photoshop's younger and less-loved cousin, Lightroom, isup for grabs from Adobe's website. It's $150 to buy outright, or $80 if you've got a previous version of Lightroom.
Adobe Lightroom product manager Tom Hogarty just showed off a preview for how Adobe's most powerful photo retouching tool might one day show up on your tablet. Oh please, please make this happen.
Adobe's latest version of Lightroom, the photo management and editing tool, was released as beta back in January. Now it's been officially released as Lightroom 4, and brings with it a big drop in price; the full version now costs $149 instead of $299.
As anyone who's used Adobe's powerful RAW photo processing software Lightroom will attest, there is a hell of a lot you can do with it, and often times all that functionality can overwhelm your machine's screen size. But what about that unused real estate on your iPad? LRPAD, a $10 app that lets you control various…