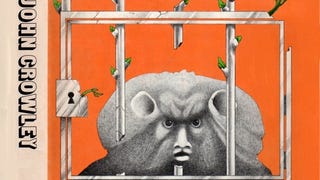 The debate over "literary fiction" versus "commercial fiction" (with the latter category including speculative fiction) has gone on forever — but there's a new wrinkle. New York Times Book Review contributor Christopher Beha has a proposal for how the NYTBR can recognize really groundbreaking works of speculative…
Manuel Gonzales' bizarre, fantastical story collection The Miniature Wife is getting rave reviews from the likes of Charles Yu and Hannah Tinti. It was named one of last week's best books by Publisher's Weekly, which also gave it a starred review. And people are comparing Gonzales, executive director of the Austin Bat…
Joshua Cohen's previous book Witz, an epic about the last Jew on Earth, received a healthy amount of review coverage for such a large and difficult novel. (See my io9 review here.) One of the more penetrating observations about the book's encyclopedic nature was this one, from Dan Visel's review:
Pulp fiction is getting a shot in the arm — and some totally gorgeous art — from Chennai-based publishers Blaft. The brainchild of mathematician Rakesh Khanna, Blaft has already published The Blaft Anthology of Tamil Pulp Fiction Vol. 1 & 2. And now they're putting out a new comics anthology series, The Obliterary…
Japanese literary darling Haruki Murakami and fantasy author China Mieville have a lot in common: their use of language, their thoughtful creation of a "secondary world," and more. So why don't people read both? Eric Rosenfield wants to know.
What sort of speculative fiction content appeals to literary writers and editors? Clarkesworld's Ryan Britt talked to editors at lit-mags Conjunctions and Opium, and a few literary authors. The key? Taking the speculative elements seriously, without too much earnestness. [Clarkesworld]
Why is Robert Silverberg's Dying Inside not spoken of in the same breath as Philip Roth's Portnoy's Complaint, or John Updike's Rabbit Run?