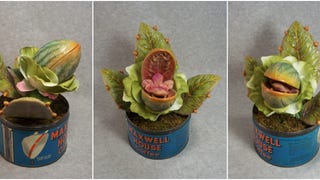 Movie-making is a bizarre and chaotic process. Sometimes, the flurry of rewrites and added footage can result in an unlikely masterpiece. But sometimes, test audiences randomly dislike a film, and this leads to ill-advised reshoots. Here are 10 science fiction and fantasy movies that had new footage added, which made…
There is nothing better than a musical segment, that lets a villain can stop and lay out his evil plans for the rest of the audience, set to music. A supervillain who can sing has more panache than regular mundane villains. To celebrate the best of the serenading evildoers, we've gathered our favorite villainous…
Skeleton sculptor Tim Prince took a bit of the person-eating plant from Little Shop of Horrors and added a pinch of Aliens' xenomorph queen to create this fearsome tribute to the horror comedy musical. I wouldn't put it past this critter to attempt world domination.
When it hit cineplexes in 1986, the Hollywood adaptation of the off-Broadway musical Little Shop of Horrors had a much more cheerful ending than its theatrical source material (and the 1960 Roger Corman movie that inspired that).
Monster Ark writer Declan O'Brien says he's optioned the rights to Roger Corman's 1960's Little Shop Of Horrors. Impossible to top the 1980s Frank Oz musical production? O'Brien doesn't think so.
If you found yourself unimpressed by the ending of Little Shop Of Horrors, then you'll be happy to find out that that's not how the story was supposed to end... and that the original ending of the movie was somewhat more unhappy for the human race. Click through to witness the true dangers of having a green finger.
Plant monsters are making a comeback, with The Ruins giving us an ancient Mayan plant thing in theaters and M. Night Shyamalan about to try our patience again with his forthcoming plant toxin movie The Happening. But there's a long history of evil plants on film, which seemingly has been forgotten in these new…