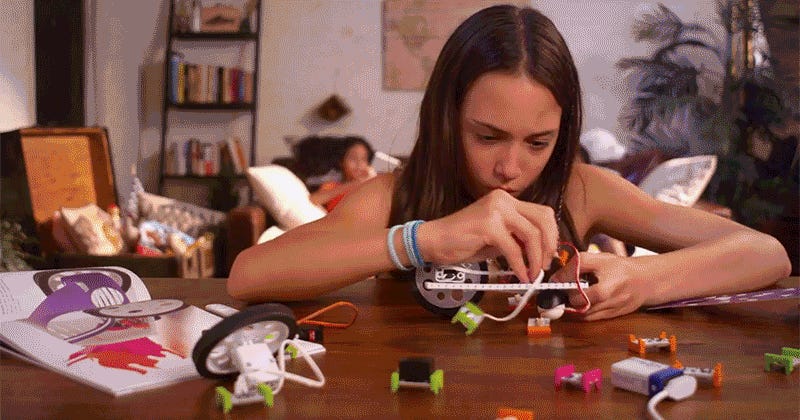 Giving a soldering iron to a ten year old to teach them about electronics maybe isn't the best idea. littleBits, on the other hand, turn basic electronic components into magnetic building blocks that make it easy and safe for kids to build circuits. And now that it includes Bluetooth, those custom creations can…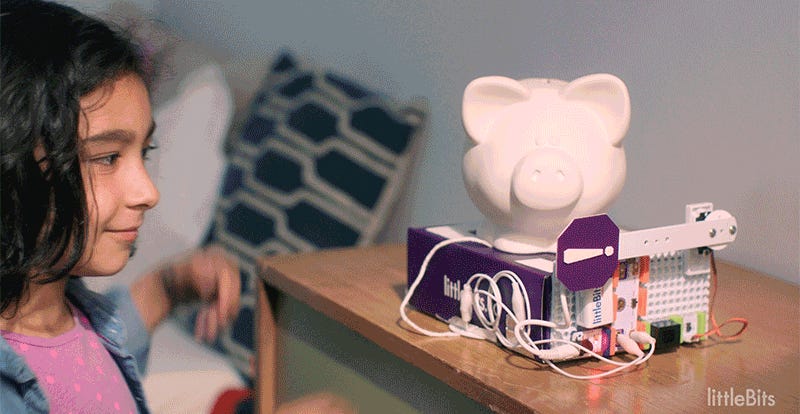 No one's more invested in protecting their privacy than kids and teens who don't want siblings or parents snooping around their bedrooms. So littleBits new "Rule Your Room Kit" includes eight different touch-activated gadgets that kids can build themselves, without requiring an electrical engineering degree, to help…
Do you or someone you love (or at least give enough of a damn about to buy a holiday gift for) want to explore this whole "smart home" idea without buying into a whole ecosystem? There are plenty of ways to get started, but these gadgets seamlessly integrate into your current, IQ-challenged abode. Best of all, they're…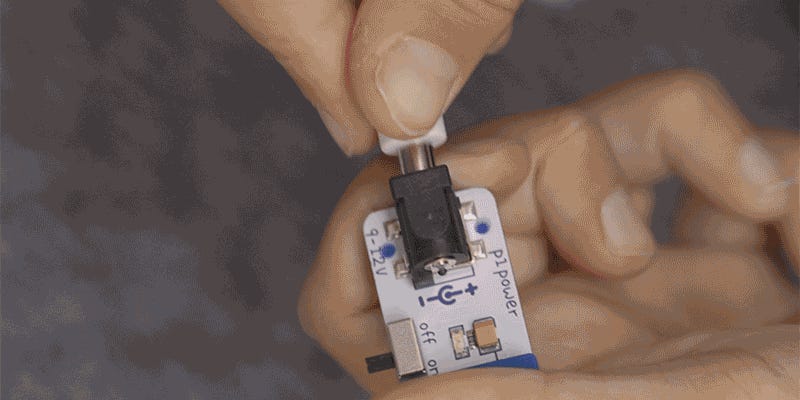 Wooden building blocks have inspired the architects of tomorrow for years now, but littleBits wants to instead inspire future engineers. And with its new Gizmos & Gadgets kit, kids can easily build more than just simple circuits and electronics.
Launched in late 2013, the littleBits Synth Kit lets you snap together the different components of a synthesizer into an extremely minimal modular instrument. Today, littleBits is adding three new modulates to its lineup, allowing its toy synth to connect with other musical tools like, uh, your computer.
littleBits is one of the coolest products to hit shelves in recent years. With their interlocking modular electronics you can create tiny machines to build a myriad of projects, from simply learning about basic electronics to developing web attached systems to start your coffee in the morning, open your blinds, even…
The smart home market has exploded in the past year. This fairly futuristic development means that you can pretty easily program your house to do your bidding, but you're also somewhat restricted by which hub and standard you buy. The littleBits Smart Home Kit promises to change that.
Everybody's favorite modular phone project, Google's Ara, is about to get little bit more interesting. Recently, the company quietly announced that it would be launching a hardware store for developers to sell their own Ara components. It'll be a little bit like the Play Store, except with hot-swappable hardware…
Except for maybe the addition of child-safe power tools, not much has changed in decades when it comes to carving a Jack-o-lantern. But if you want Halloween to be about more than gutting a pumpkin and sugar rushes, LittleBits has come out with a simple kit that turns a Jack-o-lantern into a lesson about basic…
LittleBits has had a busy year. First, it released an Arduino module that let you program your own littleBits circuits and then the CloudBit that let any circuit become internet-connected. Now, the pioneering startup is launching the final piece of the puzzle: the bitLab.
We've known and loved littleBits for some time, and now, they just got a lot more useful with the introduction of cloudBit. CloudBit is a module, a.k.a. bit, that brings internet connectivity to anything. With the rest of the littleBit library, you can now effectively create your own internet of things, no fancy…
The Mars Rover. The ISS grappling arm. An infrared light meter. You can build working models of all of those and more with LittleBits' new space-themed electronics kit, which is NASA scientist-approved and here to let kids experience simpler versions of the challenges that space scientists and engineers face every…
The smallest of chunks can become something much bigger with careful construction and a bit of planning. LittleBits—an awesome little building tool that sits somewhere on the spectrum between Lego and arduino, incorporating the best parts of both—is showing off that potential big time in the windows of NYC's MoMa…