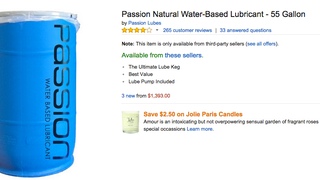 Did you need some kosher lube? Too bad, you just missed the once-in-a-lifetime window. Last week, Trigg Laboratories' "Wet" line of products became the world's first kosher lube, but now that coveted blessing has been revoked after the Rabbinical Council of California realized that it is lube for sex.
A 55-gallon tub of lube is funny. That's just science. But when you post to Facebook about it being a funny thing that exists in the world, there's a chance that your post might get turned into an ad for that specific lifetime supply of hand love enabler, visible to everyone you know.
Christmas and/or Hanukkah came early for little Connor Whelihan, whose paintball order was replaced by a giant box of porn, Viagra, and "sex oils," the NY Daily News reports. Whelihan's now prepared for explosive warfare of an entirely different sort.