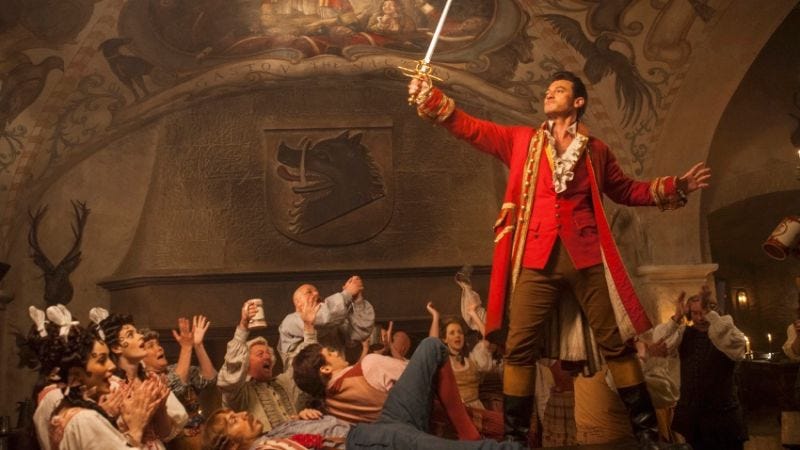 This week we've heard that Disney will be looking at "spinoff and prequel" ideas for the live-action Beauty and the Beast movie that has just come out. But they don't need to look at other options, because there is one obvious and perfect choice: A movie about Gaston.

In the original Beauty and the Beast, the reason everyone loves Gaston is basically because he's "hot." (I put that in quotes because a real-life person with those proportions would be TERRIFYING.) But Luke Evans says there's more to the good-looking villain in the new live-action adaptation than what was on screen in…
With the Wonder Woman film gathering hype ahead of its 2017 release, and the current comic writer Greg Rucka confirming that the character has "obviously" had relationships with other women, there's no better time for Professor Marston & The Wonder Women, a biopic of Wonder Woman creator Dr. William Moulton Marston.

It's no secret we've been pretty critical and dismissive of Disney's seemingly non-stop need to remake every single one of their iconic animated films in live-action. And yet, with a single video, one of those upcoming remakes just got infinitely more exciting.
Yeah, yeah, Dan Stevens (Downtown Abbey) is supposedly going to be the Beast opposite Emma Watson's Belle. But the important question is really "Who is going to be Gaston?!"
Relativity's remake of The Crow has had a rough go of it. It was originally going to be directed by F. Javier Gutiérrez, but he left and was replaced with Corin Hardy. And now it's lost its star. But Hardy is still committed to making the project worthy of both the original movie and the graphic novel.
Luke Evans is still going to be the new Crow, and the brand new reboot will allegedly start filming in the Spring of 2015. But no one is asking the real questions, like do we need another Crow movie? And does anyone want another Crow? [via THR]