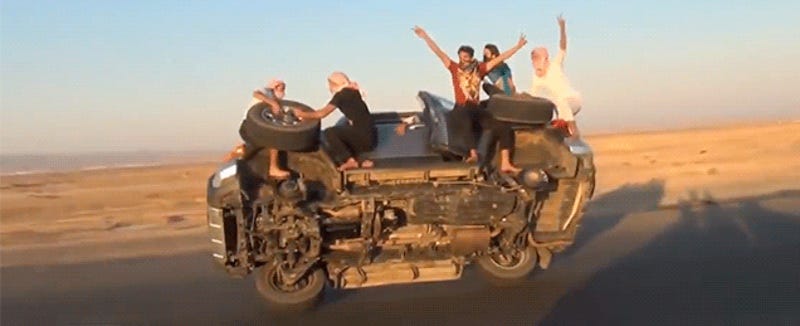 Why stop to change your tires when you can keep driving on two wheels and have your passengers go out the car to change them as you keep driving? Sploid reader Officer Mike posted a video similar to this on the comments. Apparently, this is something common in arab countries: It's called hagwalah.
Harvesting Christmas trees at insane speeds using a helicopter looks crazy from the ground and—as this video demonstrates—it's mad from the pilot's seat too. I still can't understand 1) how they can make money using helicopters for the harvest and 2) how can they do it so fast.
This is Jon. He recently recorded himself counting to 100,00, one deliberately paced integer at a time. Join him won't you? At least for a little? You don't often get to stare so directly into the face of madness.
Artist Zimoun employed 138 cotton balls attached to dc-motors inside cardboard boxes for this new installation. I watched this and literally went, "Well that's not... ok but.. wait what? I don't even..." And now my head hurts. [design milk]
No more wasting your money collecting all those apps just so you can watch the lovely, revolutionary, magical, emotional, whatever-happened-to-those iAds contained therein. Apple has deigned to slap together iAd Gallery, a free app that promises "Great ads. On-demand. In your pocket." I don't think it's a belated…
Scalpers at the Beijing Apple Store just won't quit. First they caused the store to close. Now Apple has reportedly tripled the store's security and requires customers to be escorted upstairs to buy their iPhone 4. Madness!
If you thought Red Bull Racing was crazy, you won't believe the Rocket Racing League. Think NASCAR, but in the air, using planes powered by solid-state rockets flying simultaneously. The racers take off in pairs, separated by minutes, competing against the clock at the same time. That means that they will have to…
What's long, white, wiry and fluffy and has a bit of hardware stuck on the end? A tail cam, of course. Available in Japan from Angel Kitty (they are the hot freekz who brought us the French Maid Keyboard) it will cost you $146, but I think that's a bit expensive, so, after the jump, I'll tell you how to make your own.
Do you ever worry that you have been overworking your cellphone? Yes, thought so. And since we're not allowed to send them away on holiday (just think of the chaos an unaccompanied cellphone would provoke on a plane, I'm seeing the movie posters already, dang) then perhaps the least we can do is buy them a bed that…
I'm off. Leaving. So, tatty-bye. Working for Gizmodo has been fun, but I have a higher calling, thanks to the discovery of this Conference Bike, invented by Eric Staller in 1991. The 15 mph behemoth only cost me $10,000 and I am going to travel to Guyana on a mission to save the indigenous orange-breasted marmoset…