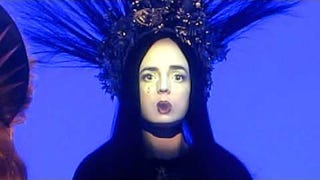 Jean Paul Gaultier's retrospective of his 40-plus years of fashion design would have been breathtaking even without bizarre talking mannequins. Gaultier himself greeted guests to a press preview party of the exhibit, open at San Francisco's de Young Museum from March 24 through August 19.
Surely these pistol stilettos adorned by Madonna at her recent directorial debut can't be packing real guns. Then again, if we had to listen to that much pretentious bullshit coming from our own mouths at all times, we might need our personal escape plan at arm's reach, too. [
If Heels Could Talk
via NSFW]
I usually try to stray away from the celebrity gossip goods and leave it to my Gawker brethren at Defamer, but this is too good to pass up. It seems Madonna is the proud owner of an iPhone a few months prior to the official release date, at least according to the fine folks at Perez Hilton. I'm not convinced that it…
Let this breast-inspired radiator heat up your life, literally! Okay, I was exaggerating; nowhere on the manufacturer homepage does the words breast-inspired come about, but honestly. Look at this beast, and it is named the Madonna to boot. Aeon, the manufacturer, calls the design eye-catching, but I like to think of…

Rumors of a Madonna-branded pink iPod nano had been being swirling for weeks. But then the mainstream media went all-in and placed big bets on it being the centerpiece of yesterday's Apple unveiling. I'm talking about ABC News, The New York Post, BBC, and KESQ TV in Palm Desert, CA.—among others.
Think Secret reports that Apple has the usual tricks up their sleeve this week in terms of product announcements. Expected to be announced are updates to the current iPods in size, not price. The 20GB is due to go up to 40GB while 40GB takes on a whopping 80GB size. Prices are supposed to remain the same at $299 and…