The magnifying glass. It's good for more than burning ants, you classless juveniles. Because you can take funny photos with it, too!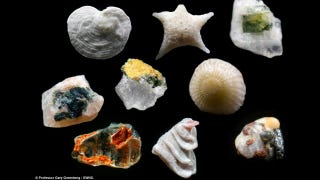 There may be more stars in the sky than sand grains on the world's beaches, but do they look as pretty as these grains when shot ultra close-up? Maybe not. But it's mind-boggling to see magnified sand looking so gorgeous.

Take it from someone with experience, get the Pocket Viewer no matter how good you think your eyesight is. I recently got screwed over by a moving company who broke my 61" HDTV, thanks to missing some small print.