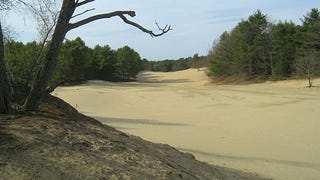 Maine has miles and miles of coastline, but its most spectacular sand dunes are nowhere near water. For that, you'd have to head inland, toward the vast, sandy expanse known as the "Desert of Maine." There, thanks to hapless farmers and some unusual geology, you'll find rolling dunes in the land of lobster and pine…
In 1805, a twenty-three year-old Bostonian named Frederic Tudor launched a new industry: the international frozen-water trade. Over the next fifty years, he and the men he worked with developed specialized ice-harvesting tools, a global network of thermally engineered ice houses, and a business model that cleverly…
As any Border Collie owner (*raises hand*) can tell you, to describe them as "high energy" is modest at best. Bred as herding dogs, they required near constant activity and attention because if they aren't "working," they aren't happy.
Roosevelt taking a hike Roosevelt in his harness Roosevelt sans his harness.
When she was five, Alannah Shevenell's doctors discovered the cause of her fever, weight loss, and distended belly—a sizable tumor spreading throughout her body. After two failed surgeries and rounds of chemo, her doctors had just one option left; a risky surgery to replace six of her cancerous organs.
Reuters reports that a garbage-filled dump truck trying to race across the tracks ahead of an Amtrak train this morning simply didn't make it. Nor did the driver. Downeaster train 681, headed from Boston to Portland, Maine crashed in North Berwick at 11 a.m. Four of the train's 112 passengers were injured.
Biddle's got the classics, GoreTex-ified. Mascari has 'em in brown, (iconoclast), and I've got the tall fleecey ones—I hate getting cold ankles. Blam might order a pair. I'm talking about the L.L.Bean Boot: the accidental, unofficial shoe of Gizmodo.