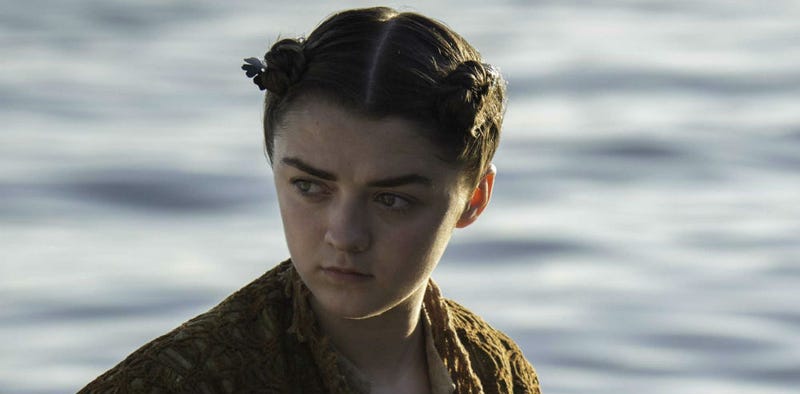 There's some very big news potentially coming out of the X-Men movie universe. Hot on the heels of this summer's X-Men: Apocalypse, Hitfix is reporting that two actresses are about to be cast in New Mutants, which is being directed by Josh Boone: Game of Thrones star Maisie Williams and The Witch star Anya Taylor-Joy.
A sequel to Pacific Rim might be a long ways off, but it's still on director Guillermo del Toro's mind. And, he has a fantastic idea for who he wants behind the controls of a new Jaeger.
We've seen concept art of the outfit that Arya Stark will be wearing in the upcoming season of Game of Thrones, the one that made Maisie Williams unrecognizable on set. Now we get to see what it looks like in the flesh — and Arya does look radically different. Check out the whole thing below. Mild spoilers!
Star Wars has announced the return of another actor. Ryan Gosling's rumored to be in all the genre films. Could Batman v. Superman be building Wonder Woman's home in New Mexico? See a first look at Alexander Siddig in Game of Thrones. Plus, more details on Interstellar and Terminator: Genisys. Spoilers now!
Season four of Game of Thrones contained some major departures from the books — and some of them underscored just how much Bran and Arya Stark no longer want or expect to be rescued. We caught up with Isaac Hempstead-Wright and Maisie Williams at Comic-Con, and they told us why things are only going to get murkier.
Last year, the entire Internet was delighted by Maisie Williams, Sophie Turner and Isaac Hempstead-Wright — Arya, Sansa and Bran Stark, respectively — singing their version of the Game of Thrones opening credits in a DVD/Blu-ray commentary track. Well, the season 2 Blu-ray/DVD is coming out next month, and I'm…