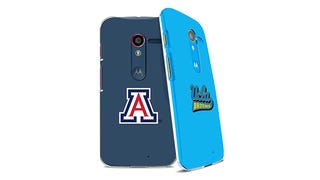 You're biased about sports. It's fine, we all are. It's part of the allure. But it's just as fun breaking it down to see exactly how we're biased. Yahoo gave Facebook Data access to its more than 60,000 brackets filled out by Facebook users, which Facebook has in turn made into some awesome visuals showing exactly…
Like it or not, Facebook is a pretty good barometer if what people like. So it's fun when it gathers up its considerable data troves and spits out maps of stuff we like. Today it broke down the fans of teams in the NCAA Men's Basketball Tournament.
In 1992 Duke beat Kentucky in the NCAA championship by making a basket in the last second of the game. And you can relive that incredible moment—and hours more—today because the NCAA has put 75 years worth of March Madness highlights on YouTube.
How much do you love basketball? Enough to pay your cable bill? Probably. Enough to pay $16 million dollars? Probably not! So you can imagine the surprise of Ohioan Daniel DeVirgilio when he learned TWC tried to do just that.
This year's March Madness is even more awesome because of all the apps we have to keep track of it. And according to the networks, a lot of you guys have been using the official March Madness app to stream games. Their numbers say 36% of all streams (which are up 47% themselves) have been done via the app. That's more…
Your bracket's already in the can, so why not relax and enjoy these incredible Lego reenactments of memorable NCAA tournaments plays past? Favorite touch: Lego Christian Laettner's future is so bright, he's gotta wear shades. [Deadspin]
March Madness! We're just two hours away from another awesome dance. But you know what makes the NCAA tournament even better this year? Apps! You can watch all the games, win your office pool, get a betting edge, root for your team, and even automate your bracket picks, all from your smartphone. Here are the six best…
Always a web-friendly sporting event, this year CBS and Turner will be streaming all March Madness games to iOS devices for free. A perfect way to convince yourself that your iPad 2 post was totally worth it. [Media Memo]
It's that time of year again, when basketball, beer and betting join forces to create the most exciting month of sports known to man. You already called in sick, filled out your brackets and took a seat at the bar, but the following Elite Eight (plus one bonus!) are things you'll definitely need to prepare for the Big…