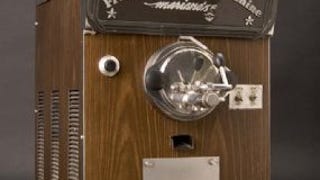 Inspired by a 7-11 Slurpee machine, Mariano Martinez invented the frozen margarita maker using parts from an ice cream machine in 1971. Salute this fine piece of engineering with a frozen concoction of your choice this Labor Day.

In the last week, "Dirty Don" has become a blog celebrity. In what can only be labeled as a perfect blend of technology and humanity, his now-famous margarita machine is powered by a small-block 400 engine that will roar louder than even the drunkest soccer mom at your next PTA meeting.
So far Team Giztaku's favorite gadget from all the pre-E3 press events we've attended over the past two days is this beautiful, beautiful Margarita machine we had the pleasure of acquainting ourselves with over and over again at yesterday's Sony press conference.