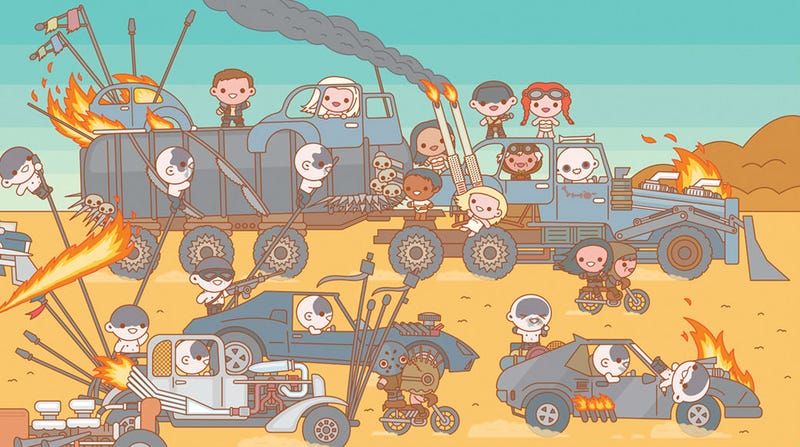 Whether it be Twitter, Facebook, your text messages or just general web surfing, it's almost certain you've seen the work of 100% Soft. The artist has become the go-to person in terms of pop culture emojis because his style is so perfectly suited to it. This weekend, he's having his second solo art show, and we're…
In 1962, Topps released a controversial trading card series that depicted the gruesome annihilation of "much of Earth's population" by Martian forces. The set was called "Mars Attacks." Many parents, unsurprisingly, hated it. Some three decades later, it inspired the Tim Burton film of the same name.
Over the weekend Popzilla gallery held a tribute art show to the wonderfully weird works of Tim Burton - including these lovely Silhouettes by artist Sam Carter.
The 90-year-old western singer Slim Whitman has died in Florida. For six decades, the singer performed and recorded his peculiar style of echo-laden yodels and ballads. He appeared with Andy Kaufman and his otherworldly music was featured in two iconic alien-invasion movies: Close Encounters of the Third Kind and Mars…
If you've ever longed to dress like a character from one of Tim Burton's films — or are simply looking for an extremely expensive Halloween costume — check out this Burton-directed fashion shoot, showcasing the dark, quirky looks for fall.
Click to viewIf there's one thing that science fiction has taught us, it's that it's almost a certainty that Earth will be invaded by an alien force at some point in our lifetime. Luckily, we've also learned that humanity will most likely forget our differences, pull together and defeat said alien force through unity,…