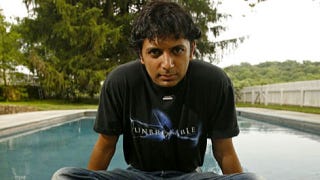 M. Night Shyamalan is now going to start making television for Syfy. But here's the (welcome) twist! Buffy the Vampire Slayer and Fright Night's Marti Noxon is also attached to the project as a producer/writer. The Hollywood Report explains that the pilot is titled Proof and "centers on the son of a billionaire tech…
Fright Night is one of the last movies of the summer, and it's like a masterclass in how to make a perfect warm-weather flick. It's a nice little character-based adventure with real scares and action. The people behind some of the other lackluster summer movies should be forced to watch this, Clockwork Orange-style,…
Fright Night, opening tomorrow, is a bit of a revelation. You expect a schlocky low-budget remake of a 1980s cult horror comedy, and instead you get a fun, thrilling, character-driven summer movie. And much of the credit goes to scriptwriter Marti Noxon, former showrunner on Buffy the Vampire Slayer.
In May we railed against the news that Hollywood would be remaking classic 80s vampire flick Fright Night. But news that Marti Noxon, Mad Men writer and former Buffy showrunner, will pen the script has given us hope.
Fox may have dropped the ball on bringing Guillermo del Toro's The Strain to life as a television series, but plans are afoot to bring the gonzo vampire tale to the small screen, with a showrunner intimately familiar with bloodsuckers.