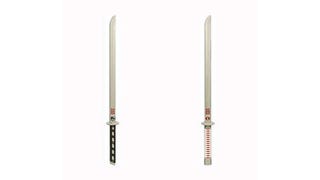 GI Joe Movie Swords
What better way to re-enact the excitement of your favorite blockbuster guilty pleasure than with a ninja swordfight using foam swords? Hasbro has heard the pleas you didn't even know you had, and created a Snake Eyes foam sword as well as the accompanying Storm Shadow foam sword. We recommend…
Sure, Marvel has confirmed that the long-awaited Marvel Universe MMO is back on, but don't hold your breath waiting; technology and synergy mean that we've got three years until we'll see it at least, apparently.
Finally, your dreams of fighting Doctor Doom and Magneto are about to come true... well, kind of; Marvel has announced plans for an MMO based on its kids' line, Super Hero Squad.
It's always a good sign when you're told ahead of time that what you're about to see is "historic," and Marvel's Friday morning Your Universe panel really did offer fans a first - The chance for them to grill the people in charge of Marvel's comic books, movies and cartoons about everything that makes them happy, mad…