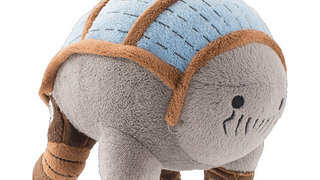 Uncontrollable Glee: This is the best. Mass Effect fans are already fond of the alien Elcor, a race of massive creatures that preface all of their sentences with an emotion to convey tone (they also make great Shakespearean actors) — but I can almost guarantee they'll be even fonder of this adorable plush version.
Every villain always threatens to return and wreak vengeance. No baddie worth their salt ever gets beaten and then announces they're going to retire. But some villains make an especially big noise about how they'll be back... and then, crickets. Here are 10 villains who made a big splash, and were never seen again.
You know it's a job well done when I have to question if this is a person in cosplay or the actual Liara T'Soni from the Mass Effect games made flesh through an act of sorcery - but rest assured, this is Jen of Soylent Cosplay, doing an outstanding job recreating everyone's favourite Asari scientist.
Kinect launched a little over a year ago. I'll bet you can't name very many games for it, and if you can, they probably fall in one of two or three categories: sports/exercise and dance, and they're prooooobably not exactly AAA titles.
According to Heat Vision Blog, the Mass Effect movie (we reviewed Mass Effect 2 here) is in talks to get a writer. This is probably the number one game-to-movie translation we want to see right now.