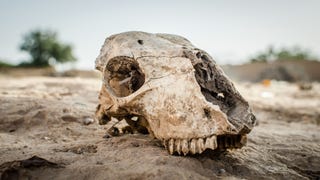 History has a way of repeating itself. Humans are currently conducting a grand experiment with Earth's climate, but the outcome of that experiment may be foretold. According to Penn State climate scientist Richard Alley, the future—or a somewhat diluted version of it—happened 55.9 million years ago.

Last week, the human race met its very first Earth-like planet orbiting a Sun-like star in the habitable zone. Kepler-452b's discovery was met with resounding excitement, but the news was bittersweet. Because life on this distant world — if it exists at all — could be facing imminent extinction.

If you want some epic disaster tales this evening, you can watch this How Stuff Works podcast about possible causes of the five mass extinctions that nearly extinguished all life on Earth. After that cheerful topic, I also talk about why scientists believe we're heading into a sixth mass extinction.
A super volcano that creates a toxic ash cloud covering Earth. Gamma ray explosions. Shifting of magnetic fields. The robots. The bees. And even ourselves. If you want to give yourself a little scare, watch this video on the 10 things that could wipe out life on Earth. The idea of mass extinctions is riveting stuff.
Researchers at Cal Berkeley say that we—we being humans—have probably triggered the sixth mass extinction in our planet's history (the first man-made mass extinction!). Thanks to the last 500 years of over-fishing, overhunting, habitation destruction, and fossil-fuel-induced global warming, we could have the blood of…