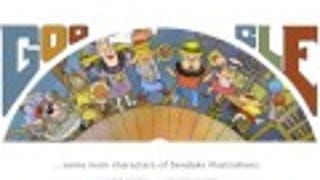 Author and illustrator Maurice Sendak passed away last year, but tomorrow would have been his 85th birthday. In his honor, Google has posted an animated Doodle running through some of Sendak's classic books.
While Peter Jackson's Lord of the Rings trilogy, and now The Hobbit movie may be how many modern folks see Middle Earth, it's important to remember that the first person to illustrate J.R.R. Tolkien's world was Tolkien himself. Tolkien had a very clear sense of how Middle Earth should and should not look, and while he…
And now, an illustration that distills the cultural zeitgeist of the past week. Artist Hannah Friederichs has drawn Earth's Mightiest Heroes in the fashion of the late, great Maurice Sendak. Click on the lower-right corner of the above picture for the full spread. Hat tip to Seivewright!
Maurice Sendak was important to us here at Gizmodo: His stories inspired us to follow our own internal compasses when our parents told us to stop wasting our time skateboarding or making movies or playing with gadgets. In an unhappy coincidence, we visited Best Made Co.'s New York City workshop on the day of Sendak's…
Author and illustrator Maurice Sendak — who crafted so many of our childhoods with such books as Where The Wild Things Are, Outside Over There, and In The Night Kitchen — has passed away at the age of 83. Sendak's most recent book, 2011's Bumble-Ardy, began its life as a Sesame Street short.
As part of their interview series with such luminaries as Ray Harryhausen, The Tate recently filmed Where The Wild Things Are author Maurice Sendak chatting about his creative process. It's an edifying watch and a good use of 309 seconds.
In honor of the Where the Wild Things Are movie, designer Christian Joy, the man behind Karen O's wardrobe, created five one-of-a-kind costumes based on Maurice Sendak's book. Now you can not only pretend you're Max, you can also sparkle.
Yesterday morning, audiences at Comic-Con saw a lengthy series of clips from the forthcoming Where the Wild Things are adaptation from director Spike Jonze. Introduced by young star Max Records, the movie promises to be gorgeous, but maybe too hip.
Spike Jonze is finishing his movie adaptation of dark kids' classic Where the Wild Things Are. We've found a cache of Wild Things-inspired art that we wish would find its way into his flick.