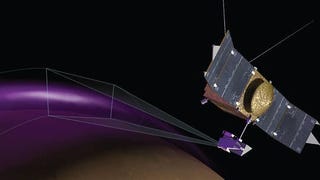 Yesterday, comet Siding Spring hurled past Mars at half the distance between the Earth and moon, bringing a massive cloud of dust along with it. To protect its space-based assets, space agencies employed precautionary measures, and they appear to have worked.
NASA's MAVEN spacecraft hitched a ride on an Atlas V launch vehicle on November 18th of last year. Now, just over 10 months later, it's finally about to reach its objective: orbiting Mars. Watch along as it closes in on success. [Update: We have orbit!]
NASA's newest Martian explorer – the Mars Atmosphere and Volatile EvolutioN (MAVEN) spacecraft – is finally ready for lift-off. Currently poised atop an Atlas V rocket at Cape Canaveral in Florida, the Mars-bound orbiter is slated to launch this afternoon at 1:28 pm ET. Live coverage of the launch begins right now!
After narrowly avoiding the chopping block during the recent government shutdown, NASA's upcoming MAVEN mission is finally a go for launch on Monday, barring any technical or weather setbacks. Before then, take a moment as Reading Rainbow host and Star Trek: TNG staple LeVar Burton explains exactly what the…
MAVEN, NASA's next spacecraft launching to the Red Planet in barely three days time on November 18th, seeks to unlock one of the greatest Martian mysteries: Where did all the water go?
This is a rare moment of sanity and clarity from the powers-that-be. Despite the current government shutdown, NASA's MAVEN mission—slated for a November launch—has been allowed to go ahead.
The government started to shut down on Tuesday morning after Congress embarrassingly failed to come to an agreement on the budget. It's bad news. While science and technology programs as a whole took a hit, NASA's MAVEN spacecraft set is particularly screwed.
We know that Mars once had an Earth-like atmosphere dense enough to support liquid water on the surface of the planet, we've found the dry riverbeds and the presence of minerals only formed in water to prove it. We're also pretty sure that the planet slowly lost that atmosphere into the depths of space on account of…
The Curiosity rover is just four months into its primary two-year mission on Mars, and already NASA is planning sequels. The Agency announced yesterday plans for a series of Martian missions that will culminate in 2020 with the launch of a new robotic science rover based largely on Curiosity's design.