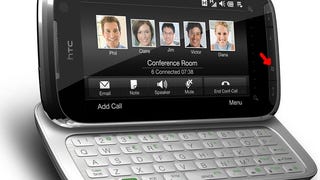 Here's an interesting one-off about Windows Mobile 6.5. Microsoft has mandated that all phones running the OS feature a physical "Start" button.
Samsung is working hard to up the ante on cellphone camera resolution. But forget digital cameras. With their 8MP Omnia HD (spotted yesterday), Samsung is going after camcorders.
I got a good feeling groping the Nokia N97. Not in my pants, but close. Unlike the boring E75, it goes beyond "nice," The interface—which divides the screen in big, easy-to-click buttons—felt quick.
Remember the old Nokia Communicators, those smartphones with email and applications that were fuglier and bigger than Herman Munster's left shoe? Yeah, me neither. Here's the heir, according to today's Nokia conference: The Nokia E75.
The long-since-leaked E75 has been announced by Nokia, offering bring a new form-factor to Nokia's smartphone lineup.
As you can see in these videos, the Sony Ericsson Idou's is extremely smooth and elegant. I want it. Seriously, I want to lick it more than I want to lick Beyoncé's underpants. Portrait mode:
Do your hands tremble in anticipation at the mere mention of the Palm Pre? Yes? Then consider this new, somewhat dry demo video your Sunday gadget porn. I'm glad Matt decided to show up too!
I got some quality time with a Garmin Nuviphone G60, riding around Barcelona in the back of a jet-black Mercedes limo. My hands-on impression: This smartphone-meets-GPS-meets-media-player feels like a winner.
I'm now in my Barcelona hotel after coming up from Madrid in the bullet train (wheeee!) I will be covering the Mobile World Congress 2009, which will be loaded with new products. Stay tuned.