Last month, a microbiology lab in Nottingham, England made international headlines when it unearthed a substance that kills methicillin-resistant staph, one of the deadliest superbugs of modern times. The most astounding part about the find? It was a 1,000-year-old Viking potion.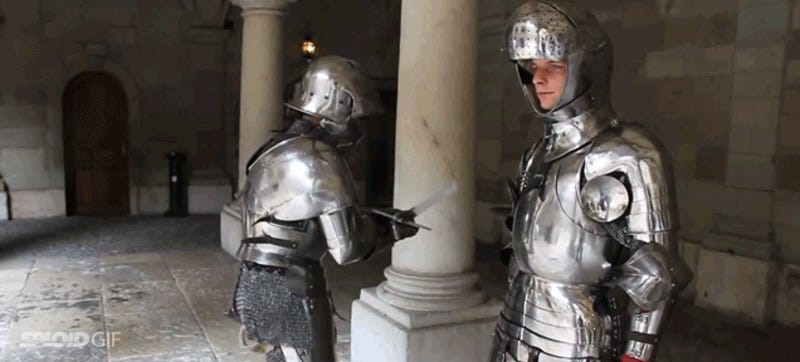 My uncle used to own an old medieval Spanish armor. I remember looking at it and thinking how the hell knights could fight stuffed inside those heavy and clunky metal suits. This video shows how: Reconstructing medieval fight techniques using combat treatises of that time as a reference.
Before the era of "set it and forget it" countertop rotisserie ovens, kitchen gadgets required a lot more manpower—and if not manpower, then dogpower. The turnspit, a breed of dog dating for medieval Britain, would run around and around on a wheel like a hamster in a cage, ensuring evenly roasted meat for hungry…
Even the best Eagle Scout prefers to navigate during the day. The Vikings, apparently, would have laughed at such a preference—according to new research, the North Atlantic seafarers' sun compass was so advanced it even worked after dark, thanks to clever engineering and mystical crystals.
The wormhole that produced the motel-thieving musketeer hasn't closed yet—two more time traveling brigands have appeared, this time holding up a post office with a crossbow. We expect a catapult raid against a 7-11 sometime over the weekend.
Send mutton and mead to archer station on crenellation 4SW—can't hold back the hordes on an empty stomach! K Thx :) [English Russia]
I'm not entirely sure what is going on here, but I know what I like—and two robots duking it out with medieval weapons is definitely on that list. There are three weapons to choose from—a scythe, ax or a mace and there is some level of human interaction via a computer terminal. To be honest, I wouldn't call what they…
One of our favorite episodes of Junkyard Wars was the pumpkin-flinging catapult competition so when we saw these functional mini catapult and trebuchet kits we briefly but immediately wished we lived somewhere with a yard big enough to use them—the catapult can hurl things ten feet and the trebuchet twenty, so they…