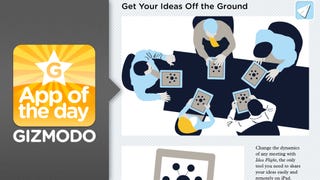 Imagine you have a presentation to show off but instead of using a projector and paper print outs, you're using iPads. Why? Because with Idea Flight for iPad, you can control what everyone gets to see on their iPad.
What is it?
Idea Flight, Free, iPad. At the core, Idea Flight is like a screen sharing app for…
According to Business Insider, President Obama penciled in some time with one Steven P. Jobs before his swanky fundraiser out in California at Googler Marissa Mayer's place later tonight. So what will they be talking about? Who knows. Maybe Obama's soliciting donations. Or maybe he just wants the white iPhone 4. [BI]
Oh, you work in an office where everyone has an iPad? Good for you. Here's how to spend less time in meetings and more time being productive. The $10 Meeting Mngr Pro app will obviously pay for itself very quickly.
There aren't too many details about it, but apparently there'll be an all-hands meeting for Facebook folks at 4PM PST tomorrow. The topic: Privacy. [All Facebook]