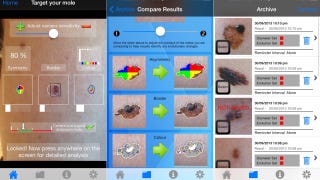 A slew of apps have cropped up touting the ability to diagnose any number of diseases over the past few years, and now thanks to the federal trade commission, at least two of them will have to stop. Because science isn't backing up any of it.
We've known for awhile that certain illnesses can have a very, er, special smell for the olfactory-inclined, but even us humans (with the help of smell-sensitive technology) could soon be diagnosing diseases with nothing but our nose. Thanks to a nanotechnology-based sensor, we're now able to differentiate between…
The cameras on our smartphones have come a lonnnnnng way. In fact, many people rely on their iPhones as the primary device for non-professional photography. But are these cameras yet good enough, clear and color-accurate enough, to trust when the results could literally be a matter of life or death?