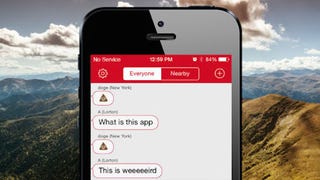 Imagine what would happen if every cell phone tower in the country spontaneously combusted. We'd be in big trouble, which is why the Pentagon is exploring other ways to communicate in the event of an emergency. Chief among them is the idea to connect every cell phone in America with mesh networking technology.
Picture this. You walk into the subway but you don't lose service. Instead, your phone lights up with useful alerts—the train is delayed, a nearby kiosk is running a sale, your friend is standing on the other end of the platform. Meanwhile, there's not a cell tower within 500 yards. This is the world powered by the…
FireChat, the elegant mesh networking app that lets you talk to you friends without an internet connection, just got even better. While you've been able to use the app on iOS and Android devices separately for months, a new version of the app lets you cross the platforms. It sounds pretty neat!
It's not too often these days that an iPhone still surprises you. We've more or less seen it all by now. Except, we haven't. FireChat is a new app that takes advantage of a little-known iOS feature that makes it easy to set up and run a network even when there's no cellular signal.