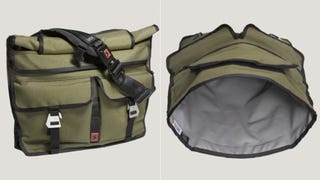 Chrome's new Lieutenant rolltop messenger bag combines the versatility and easy access of a messenger bag with the watertight seal of a rolltop backpack to make one tough bag. Doesn't hurt that it's got looks, to boot.
From what we can tell, the $175 Life Vest Messenger Bag, while quite fashionable, does not actually float. Thank goodness we clarified that before anyone got hurt on the way to some beach bound Starbucks. [ehrensache via notcot via boingboing]
Carrying a cooler full of Pabst into a job interview may seem like bad form, but hauling a twelve-pack in a Dolores Cooler shaped like a messenger bag is just the thing to show off your go-getting attitude.
There are plenty of chairs out there that collapse into more portable forms, but this director's chair is undoubtedly the most convenient to carry. It can fold to a width of only four inches.
We've seem our share of good packaging ideas and bad packaging ideas, but this new method from HP is a great packaging idea. Their Pavilion dv692 systems available at Wal-Mart and Sam's Club will sit on the shelf in their own recycled material messenger bags, stabilized and protected with internal air bubbles. This…
Solar bags are a great way to charge all your gadgets while out and about, but Switzerland-based bag maker Sakku one ups the green aspect by making its bags out of recycled sails. Each Sakku Buddy comes stamped with a "story" listing the name of the lake or sea which the boat that used the sail is located. Each bag…
Pretty soon you'll be able to get a messenger bag for every imaginable pursuit, with recent examples being Adobe with its luxo-sport leather messenger bag, and a Firefox-themed bag following soon thereafter. Now A.L.S. Industries brings forward its entry into this specialty market with its Xbox 360 Messenger Bag…
We didn't realize there were fanboys for Firefox, but don't get us wrong, we dig the Firefox open-source web browser. We use it literally all the time. It's just that, is there really a need for a bag that says Firefox all over it? Not that this isn't a great bag; it fits a 17-inch laptop inside along with a bunch of…
For the girls who want to carry around their laptops but don't want to look like they are, there's the Prism Messenger. There's a pocket for a cellphone, a PDA, business cards, and of course, a laptop. Available for $69.
Adobe sent us one of its limited-edition leather messenger bags ($250) we told you about a couple of weeks ago for testing, and we tried fitting a variety of laptops inside. The 17-inch MacBook Pro barely fits (almost needs to be lubed up), a 15-inch MacBook Pro fits pretty well, a 15.2-inch Dell Mobile Precision…