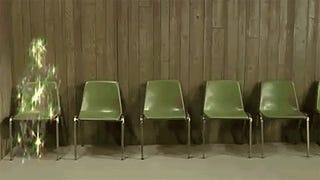 Metamaterials are a mind-bending class of matter. Broadly defined as manmade materials with unusual properties not found in nature, this category of materials is probably most famous for serving as the building blocks for a Harry Potter-style invisibility cloak. But so much more is possible.
It's likely that you've seen video of ferrofluids doing things like growing spines when exposed to magnets, or being built up into sculptures by artists using magnetic fields. But what if they're not just artistic triumphs? What if ferrofluids can act as models and let scientists learn about the multiverse?
"Invisibility cloaks" have been in development for years, but keep hitting a major roadblock — the materials used absorb too much light. New research may have found the trick to get around that, and get us our cloaking devices.
The strange field of metamaterials offers some weird optical effects, like cloaking and superlenses. Recently, two breakthroughs in the field, involving programmable materials and gold nano-corkscrews, just made this exotic nano-stuff a little more practical, and maybe even stranger.
Cat's eyes look creepy because, at certain sudden angles, they reflect light directly back at you, the viewer. The ever-popular question of invisibility is wrapped up in that ability to reflect light at certain directions, commonly known as the refractive index. This week, two physicists from the UK and the Czech…
Nanoparticles that self-assemble into complex optical structures sounds like an early ingredient in a future Robot Uprising recipe, but the science team at University of California, Berkeley thinks they'll be useful for nicely tame things. The self-assembly of the nanoparticle silver crystals can be controlled to…